Category: La Barra Brava Published on Friday, 27 April 2012 14:42 Written by Super User Hits: 1796
Barra Brava FC presents:
2013 SUPPORTERS' CHARITY SHIELD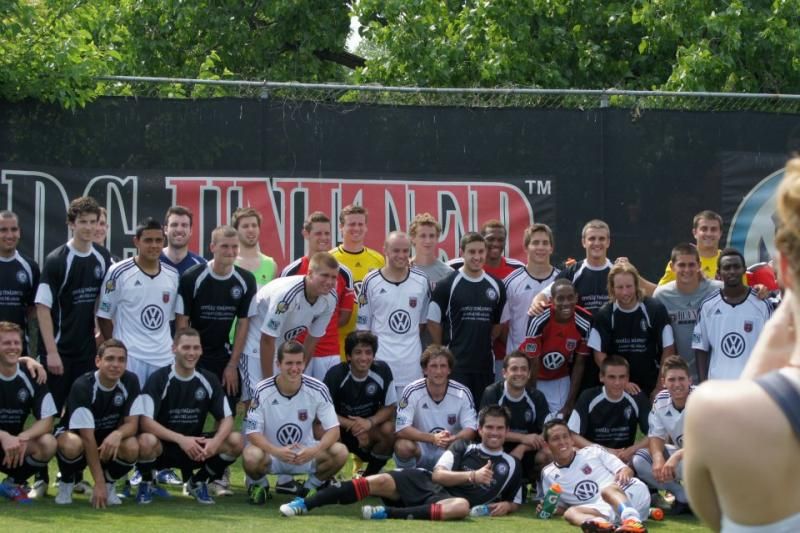 La Barra Brava's primary purpose is to support D.C. United with unwavering loyalty. However, we also share D.C. United's commitment to serving the Greater Washington, D.C. community and wish to increase our efforts not only as a supporters' group, but also as an organization that values local philanthropy. In the summer fo 2009, Barra Brava FC began the tradition of hosting the "Supporters' Charity Shield Match" as a fundraising event for deserving charitable organizations. The unique idea of a charity game planned, organized, and played by the fans while being supported and attended by the professional players has quickly garnered interest not only among the Barra Brava family but also within the DC United organization and the local media. DC United players such as Jaime Moreno, Bryan Namoff, Juan Manuel Pena, Rodney Wallace, Kurt Morsink, Conor Shanosky have seen their roles reversed as they have attended past events to meet and mingle with the crowd and to support the causes being championed on the field of play by their biggest fans.
With the success of the inagural event came great interest in making the Supporters' Charity Shield an annual event featuring the top players from Barra Brava FC taking the field against top local competition in a friendly match played for the benefit of charity. Past beneficiaries of the Supporters' Charity Shield include the "Wounded Warriors Project," the "Luekemia and Lymphoma Society," and "United for D.C." Each event has been successful in raising a significant amount of money for the represented charities and continue to grow with each year.
Barra Brava FC makes it our goal to be "mas que un club." With ambitions of one day competing on a national level, we strive to put the strongest and most competitive team of amateur players on the field at all times. In doing so, we also make it a priority to be a part of the community in a way that will benefit our club, La Barra Brava, D.C. United, and the city of Washington, D.C.
Thank you to everyone that has helped make the Supporters' Charity Shield a successful event and here's to greater success in the future!
Barra Brava FC Supporters' Charity Shield History
2012 Barra Brava FC 2, D.C. United U-23 5 (read report) (watch Highlights)
Beneficiaries: United for D.C.
2010 Barra Brava FC 2, Screaming Eagles FC 0
Beneficiaries: Wounded Warrior Project, United for D.C.
2009 Barra Brava FC 1, Screaming Eagles FC 1 (Barra Brava FC wins 5-3 in PKs)
Beneficiaries: Wounded Warrior Project, Luekemia and Lymphoma Society
Read The Washington Post article by Dan Steinerg